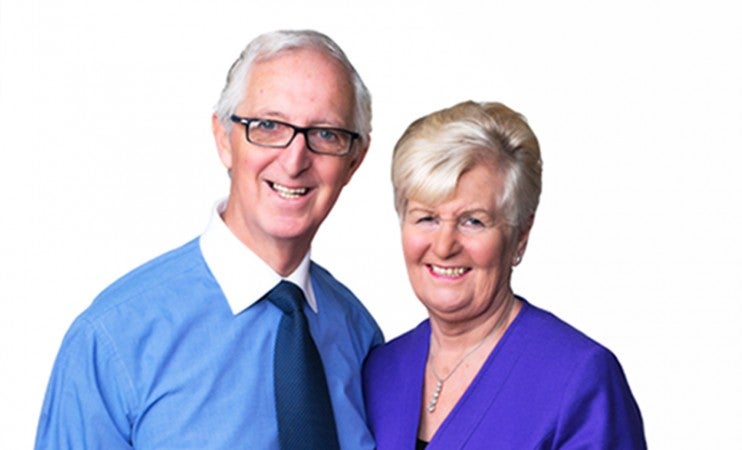 Gordon & Lorna Pettie
Presenters of: Church Without Walls, Classic Praise, plus interviews and documentaries
Year started at Revelation TV: 2003
Full Name: Gordon Pettie
How you became involved in Revelation TV:
I had no involvement in Christian television until a friend of mine suggested in early 2003 that I met Howard Conder, who had started a TV station a few weeks earlier. On Easter Monday, Lorna and I travelled to Howard and Lesley's home to meet them. Because of the uniqueness of the work they were doing, lots of people were wanting to meet them and I guess they saw us 'as just another couple to see', amidst all the busy-ness of starting and running a Christian TV station' I offered to set up a charity to assist the work and that was agreed. I think I thought I was setting up a little charity that might take a few hours a week to run, never envisioning a work that would grow and grow to what Revelation TV has become today. I count it a privilege to have the title of CEO of the TV station today and see on a daily basis the impact that Revelation TV programmes are making on people's lives, not only in the United Kingdom but now many countries of the world.
Why Revelation TV is special:
Revelation TV has always seen itself at the cutting edge of technology and reaching out to a lost and hurting world. The very first programme on February 14th 2003 was a live programme, and live and interactive has been at the forefront of all that Revelation TV does. People today want to be able to ask questions and receive answers. Revelation TV seeks to allow viewers to do that by live programmes, emails, telephone calls, debates and discussions
Something interesting about Gordon:
Brought up in Liverpool, met Lorna at Bible College in Birmingham. We married as soon as Bible College finished and have now passed the 50th Anniversary of our wedding. Our years together have produced 3 wonderful children and five adorable (well we think so) grandchildren. A few years before we became involved in Revelation TV we had a Pastor from the island of Trinidad staying with us. He prophesied over me that one day I would be involved with Royalty and television. I remember smiling at the time, at such a suggestion, never thinking that one day both prophesies would be fulfilled.
Full Name: Lorna Pettie
Programme(s) you present: Church Without Walls, Time for Revelation

Year started at Revelation TV: 2003
How Lorna became involved in Revelation TV:
God has a way of manoeuvring people into the right place at the right time. That was the case for Gordon and I. We had never met Howard and Lesley until we visited their home on Easter Monday 2003 – six weeks after Howard had started Revelation TV. In the first few years our commitment was to overseeing the Revelation Foundation charity that we started in 2003. Gradually out involvement with the TV station grew. We began to travel regularly from our home in Cheshire and in time moved completely to be based at the London studios
Why Revelation TV is special:
I believe Revelation TV is reaching the world with the gospel in a way that many other forms of Christian Outreach are not able to do so.
Something interesting about Lorna:
I am a praying mother and a praying grandmother. My journey is best summed up in the words of this poem by an unknown author. God used it to convince me that it was the right thing to leave our lovely home in Cheshire and move to London
I said 'Let me walk in the field'
God said 'Nay walk in the town'
I said 'There are no flowers there'
He said 'No flowers but a crown'
I said 'But the sky is black
There is nothing but noise and din'
But He wept as He sent me back
'There is more', He said. 'There is sin'
I said 'But the air is thick
And fogs are veiling the sun'
He answered 'Yet souls are sick
And souls in the dark undone'
I said 'I shall miss the light
And friends will miss me they say'.
He answered me 'Choose tonight
If I am to miss you or they'
I pleaded for time to be given
He said 'Is it hard to decide?'
It will not seem hard in heaven,
To have followed the steps of your guide.
I cast one look at the fields
And then set my face to the town
He said 'My child, do you yield?
Will you leave the flowers to the crown?'
Then into His hand went mine
And into my heart came He.
And I walk in a light divine,
The path I have feared to see.
I will show you the path of life. In my presence there is fullness of joy. At my right hand there are pleasures for evermore.
Psalm 16.11: